HAIR: WHAT YOU SHOULD KNOW
PART 3  WHAT COMES NEXT, after the traditional boar bristle brush. HOTHEADS® HAIR BRUSHES what makes them stand out? By addressing the deficiencies of the traditional boar bristle brushes. SPEEDING UP DRYING TIME: Creating a design structure to CONTROL AIR FLOW around the brush, allowing the air flow to redirect to the middle of the brush and wrap around creating more AIR and HEAT on a larger surface. Patented CAPTIVE ENDS® Patent pending THERMAL CONDUCTIVE TECHNOLOGY™ adding a combination of elements and other materials which aid in FASTER HEATING but more important FASTER COOLING then most common materials now in use...
---
                                                                                   May Edition    Click picture to see our ad on the Enforcer/Mr.Smoothly brush on page 150                         
---
• Blow drying your hair • BLOW-DRYING and how it affects HAIR COLOR • BRUSH FOR • Conquering FRIZZ • excessive heat damage
Facts and Performances An aerated brush is typically a round cylinder with holes and a center wire inside with nylon bristles twisted through in which bristles protrude through the holes in the barrel about 1/4 to 1/2 inches in length and are  cut flat and very scratchy on the scalp. They are usually extremely LIGHT WEIGHT  no gripping quality therefore your hand must do more work when dealing with the hair. Especially thicker hair creating fatigue and may cause CARPAL TUNNEL SYNDROME due to the repetitive spinning of this brush type in your hand. SPEED of DRYING, it's suggested that the...
---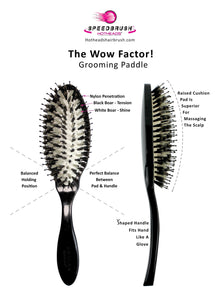 Not all THINNING HAIR SHAMPOO'S are created equal, but they are all in a category of deep pour cleansers for the scalp. This category has 2 functions IMPROVING MICRO CIRCULATION and dissolving DHT to improve the scalp and hair growth. The single biggest mistake is to use the shampoo like you would a regular shampoo. We recommend shampooing twice as this will improve the results. The first lather is to remove the styling products and sebum. This sets the scalp up for a second lather which is now clean and moist , allowing the actives easier access to the pores....
---
POROSITY is another way of describing the hair's internal damage and it's ability to absorb water. More damage more POROSITY Less damage less POROSITY. Most CURLY HAIR looks better when it's wet as water contains the most numerous bonds H2 O2 but are also the weakest in the hair and that is why it looks good when wet. When the water evaporates the hair appears limp and frizzy. Very CURLY HAIR with more POROSITY/damage means more water is absorbed adding more weight, holding down the curls and therefore looking it's best. For this type of curl, styling products should be thicker and...