HAIR: WHAT YOU SHOULD KNOW
Dandruff or Dry Scalp?   Colder climate conditions can trigger Dandruff or Dry Scalp or both.  FIGHT the FLAKES! Your scalp is an extension of your skin and face so treat it with kindness. Dry, flaky scalp may be caused by a multitude of factors which can make the scalp more sensitive creating itching, redness, and flaking. This may just require changing your shampoo, possibly look for one WITHOUT Sodium Lauryl Sulfates. A shampoo that states it's hydrating for both the hair and scalp will be more effective this time of year. An Exfoliating shampoo is a good idea to introduce this...
---
• cold weather and your hair • Conditioners • dehydration in the winter • Healthy Hair • How to eliminate static • massaging the scalp • more manageable and less flyaway • negative ion technology • negative ions • The right hair dryer • Winter Hair Care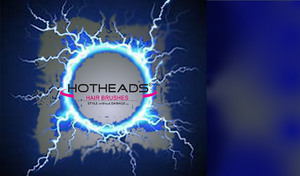 HOW to STATIC PROOF your HAIR Most people believe it's their HAIRBRUSH that causes static but it's a combination of elements that create those frustrating flyaways. Brushes generally don't create static in the hair, Damage and Dryness, (Dehydration) are conditions for Static often caused by the Environment, Products and Styling tools. https://www.hotheadshairbrush.com/blogs/hair-what-you-should-know/extreme-temperatures-cold-or-hot-and-how-they-affect-my-hair-nov-2022    Static is more common in drier conditions. Dryness can be internal, external or both. Damaged hair exhibits more negative charges therefore more potential for flyaways / static.  Ever notice your hair always looks great for a short time after styling, though in a matter of hours may...
---
• Blow drying your hair • blow-dry styling • Blow-drying brush • Blow-drying FRIZZY HAIR • cold weather and your hair • dehydration in the winter • Fall Hair • FALL Hair Care • How to clean my boar bristle brush • How to eliminate static
FALL SEASON and your HAIR 2023 Fall, what you need to know when temperatures drop. What changes do I need to make with my hair care routine? Cooler temperatures, wind, and cool damp rainy days can be challenging for both your hair and your skin. It's may also be the time to pull out your hair dryer once again. First check your hairdryer look for signs of overheating, this can be as simple as checking the filter on the back of the dryer, look for lint as this can choke the motor and cause overheating, or hot spots which can...
---
• Boar Bristle Brush • Boar bristle Brushes • Healthy Hair • healthy scalp • How to clean my boar bristle brush • How to clean my hair brush • natural black boar • natural white boar
            Cleaning and Maintaining your BOAR BRISTLE hairbrushes.   Hairbrushes need some attention now and then as fuzzy brushes full of hair, oils, residue of styling products just don't work well without some maintenance.     The most common problem with hairbrushes is they get piled up with hair just like your vacuum roller, and the easiest and most efficient way to remove hair is to use either a pair of scissors or a metal tail comb and from one end to the other run the scissors "sharp blade up" between the bristle rows and...
---
• 3D BRISTLE PATTERN® • Best Brush • best brush for thinning hair • Blow drying your hair • blow-dry styling • Blow-drying FRIZZY HAIR • Blow-drying tips • Boar Bristle Brush • Boar bristle Brushes • bristle type is natural BLACK BOAR • BRUSH FOR • combating heat damage • combination of bristle type • curly unruly hair types • Damage free hair • detangling without the ouch and breaking • different bristle types • easy to use • fine fragile hair • Fine hair • frizz free • frizzy hair • Hair and scalp • hair blow-dryer brushes • HAIR BRUSH • Healthy Hair • healthy scalp • heat damage from extremely hot dryers. • heat damage of hair • heat damage of the hair • HOTHEADS® • improve your experience when blow-drying • LONG HAIR • Menopause • natural black boar • Natural bristle brush • natural white boar • overheating/burning your hair • Prevent heat damage • preventative approach to styling • preventing droopy hair • Reduce drying time • Reduce HEAT DAMAGE to your HAIR • reducing your drying time • Slippy vs Grippy • Slippy vs Grippy or adjustable temsions • Smoothing Brush • smoothing hairbrush • STRAIGHTENING BRUSH • styling brush and hair dryer • Thicker hair types • to improve ones' styling experience. • when using a hair dryer look for signs of over heating
               NOT ALL HAIRBRUSHES are ONE SIZE FITS ALL.     BOAR BRISTLE and PORCUPINE BRISTLE brushes are for those who are looking for SHINY, HEALTHY, MANAGABLE HAIR. The structure of a round boar brush has a core of wood or composite material used as the backbone with BOAR BRISTLE tufts inserted into either straight rows or cork screwed at various degrees of twist this helps create better SMOOTHNESS, VOLUME and SHINE. If you're looking for FASTER DRYING TIME, DON'T consider a brush with BOAR BRISTLES, as they tend to have a slower drying time due to...