• cold weather and your hair • Conditioners • dehydration in the winter • Healthy Hair • How to eliminate static • massaging the scalp • more manageable and less flyaway • negative ion technology • negative ions • The right hair dryer • Winter Hair Care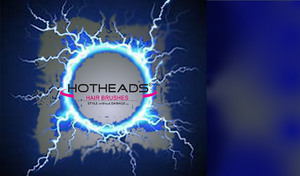 HOW to STATIC PROOF your HAIR Most people believe it's their HAIRBRUSH that causes static but it's a combination of elements that create those frustrating flyaways. Brushes generally don't create static in the hair, Damage and Dryness, (Dehydration) are conditions for Static often caused by the Environment, Products and Styling tools. https://www.hotheadshairbrush.com/blogs/hair-what-you-should-know/extreme-temperatures-cold-or-hot-and-how-they-affect-my-hair-nov-2022    Static is more common in drier conditions. Dryness can be internal, external or both. Damaged hair exhibits more negative charges therefore more potential for flyaways / static.  Ever notice your hair always looks great for a short time after styling, though in a matter of hours may...
---
• Best Brush • best brush for thinning hair • Better Balance Reduced Fatigue • blow drying and how it affects hair color • blow-dry styling • Blow-drying brush • Brush • BRUSH FOR • Controlled Air Flow • Copper • Ease of use and SPEED • environment • ergonomics • excessive heat • hair blow-dryer brushes • Healthy Hair • heat damage from extremely hot dryers. • HELP PREVENT COLOR FADING when BLOW-DRYING • HOTHEADS Hair Brushes • Magnesium • negative ion technology • negative ions • Self Care Hair Care • styling brush and hair dryer • Technologies • thinning hair and menopause. • to improve ones' styling experience. • tourmaline • weight of the brush
Work SMARTER not HARDER.. Your Styling Brush and Bristles do 80% of the work when blow drying , WHY NOT have a brush that offers more.   HOTHEADS® Patented Thermal Conductive Technology™ Moderates the heat helping to prevent HOT SPOTS and severe heat damage from extremely hot dryers. Technologies are continually evolving in the hairbrush industry to improve ones' styling experience. First came various coatings one which emitted Negative Ions, Negative Ion Technology which focused on a faster disbursement of water, reducing drying time and frizz but does that include the moisture within the hair shaft?  Removing water that helps the structural...